2019 Honourary Life Members
Agricultural Societies are asked to nominate worthy members.  Please fill out the form and send to the contact listed on the first page by October 15, 2019.
2015 Honourary Life Members
John Holland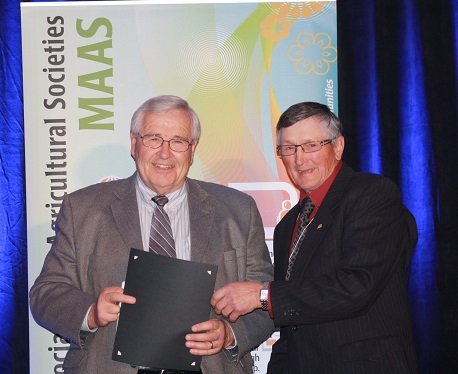 John Holland has been married to Dianne, a former Springfield Agricultural Society Board member for 48 years.  They have three children and 8 grandchildren.  He has been a moving force in the community of Springfield for many years.
Mr. Holland is a founding member and former president of the Springfield Tractor Club.  He is a "core" member of the Springfield Country Fair and is essential during set-up, fair day and take-down of infrastructure for the fair.  John is in charge of arranging for the Tractor club display, the barrel train, tractor-pull, cribbage, miniature golf and assists with Huck-a-Boot competition.
As a business owner, his companies are an asset to the R.M.  John's recent, significant accomplishment as chair of the Springfield Seniors Non-Profit Housing Co-op has been to build a multi-suite housing co-op in Dugald so that Seniors can stay in their community. Though no longer chair, John continues to serve on the committee as a board member.  He also served as Reeve of the Council for the R.M. of Springfield from 1998 to 2006.
John has been a member of the Church at Pine Ridge for 18 years and was its moderator in the late 1990s.
The Springfield Ag Society has greatly benefitted from his leadership and wisdom over his 25 years of involvement, especially as President, Past-President and long-term Chair of the Nominating Committee.  We are pleased to recognize his contributions by nominating John to receive Honourary Life Membership in the Manitoba Association of Agricultural Societies.
Kathryn Wilkinson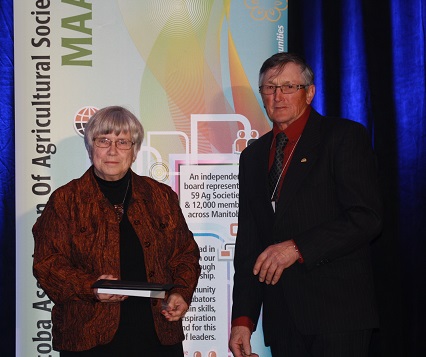 Kathy Wilkinson has recently celebrated the 51st anniversary of her marriage to Brian Wilkinson, farmer and mechanic.  They have two children and 4 grandchildren, most of whom are also very involved in the Springfield Country Fair.
Kathy has been a "tour-de-force" in the Springfield Community, initiating and supporting many organizations.  The Springfield Tiny Tots pre-school program that she founded has been an important institution, giving a good foundation to hundreds of local children, many, even though they are now adults, still call her "Miss Kathy".  She was involved with the pre-school program for 25 years.
Kathy was a founding member of the "Firehall Artizans" art club.  It ran from the mid '70s until 2008 when the fire hall was demolished.
Mrs. Wilkinson has been a member of the Springfield Women's Institute since 1982.  She has held all executive positions in the local organization.  At this time, she is Treasurer of the Eastern Region W.I.
Kathy was Chair of the W.I. committee which instrumental in creating a memorial commemorating the "1947 Dugald Train Wreck".  It has helped bring closure to countless families from across the country affected by the tragedy.  Many have travelled to Dugald to mourn and, found, to their relief, that their loved ones' deaths have been properly commemorated.
Mrs. Wilkinson continues to be an active member of the Springfield COPP organization and leads the seniors' exercise program in the Dugald Senior's residence.  She is another of the "core" members of the Springfield Country Fair, helping with set-up and take-down of fair infrastructure as well as being in charge of the Junior Hobbies and Artistic Work.  She is a "go-to" person for many other areas and activities.
The Springfield Agricultural Society has greatly benefitted from Kathy's wisdom and humble leadership in her 35 years of involvement in various roles.   We are pleased to nominate her in recognition of her contributions for Honourary Life Membership in the Manitoba Association of Agricultural Societies.
Russell & Frances McKague
Russell and Frances McKague have been life-time members of the Oak River Agricultural Society.  They operated Delta-Lea Holsteins and raised a family of three—two daughters and a son.  Their family has now grown to include 7 grandchildren and 3 great-grandchildren.
In earlier years, Bud coached and managed minor baseball and minor hockey when his son was playing.  He was Dairy Director as well as serving as President of the Oak River Agricultural Society for a number of years.
Frances was Homecrafts Director for over 30 years in the Oak River Agricultural Society.  She also served as President for 5 years.
Frances has been 4-H leader for 34 years.  She judged at 4-H Achievements and public speaking events.  She was President and Treasurer of the local Women's Institute then served as Regional President.  Frances was also on the local United Church Women's group serving as social convenor.
Bud was a councillor for 5 years and then reeve of the R. M. of Blanshard.  He served on the Manitoba Holstein Board, Ag Ex Holstein Board, Elite Dairy Breeders Board and Dairy Farmer of Manitoba Board.  Locally, Bud has been Chair of the CDC, served the Little Saskatchewan Conservation District for 7 years and the Oakdale Senior Housing board.
The dedication that Frances and Bud have shown to the Oak River community as well as the agricultural society is appreciated.  In recognition of their contributions Bud and Frances are nominated for Honourary Life Memberships in the Manitoba Association of Agricultural Societies.
Allan Anderson
The Opasquia Agricultural Society members have nominated Allan Anderson for Honourary Life Membership because of his life-long dedication to agriculture and in particular to the Opasquia Agricultural Society.  Allan began taking part in the ag society's events when he was 13 years old.  Then, as soon as he could become a full time member he joined up and has continued working with the society for the past 53 years.  He served a president for 10 years, as a Board member and Director for most of the remaining 43 years
The Opasquia Agricultural Society has gone through many cycles, both ups and downs.  Through all of the turmoil he has remained a consistent and active volunteer, holding the society together when it appeared that it would fold.  Even now, Allan is the grounds keeper, keeping the grass cut, looking after the cutting steers at the grounds, building and maintaining pens, chutes and corrals without whining or complaining.  Allan never misses the society's monthly meetings.
Allan is the kind of person who would not speak about any awards or recognition that he has received over the many years he has been involved in his community.  He works hard and is a deserving recipient of the nomination for Honourary Life Membership.
Ken Weins
Ken Weins was born in Winnipeg and lived there for 5 years.  He moved with his family to Calgary and finally to Rosthern, Saskatchewan where he completed high school.  Ken attended university in Saskatoon and completed his x-ray technician and sound imaging certification in Winnipeg.
After marrying Janice, the couple moved to The Pas where Ken took a position as X-ray and Sound Imaging Technician.  He remained in that position for 33 years until his retirement in 2003.  Even though officially retired, Ken worked for the Federal Government as x-ray technician in Norway House for another 10 years.
For the past 20+ years Ken has held many active roles with the executive of the Opasquia Agricultural Society.  He has been Vice-President and Secretary of the society.  When not on the executive, he has been a Director and Board member of OAS.  As one of the founding members of The Valley Ropers' Association, Ken always took part in roping, and is an active, experienced horse owner.
Ken has been an active community member.  He was member of Kinsmen from 1971-1981.  He has worked with the Trappers' Festival as time keeper for the World Champion Dog Races.  He has been an active volunteer sponsor with 4-H, a volunteer Red Cross worker, and has worked with minor hockey.  He raised a family and encouraged their participation with horses.  At work, Ken was northern director for the Manitoba Association of Health Care Professionals and its president from 1971-1989.  He was given a life-time award for his service to that group.
In the last 15 years, the Opasquia Agricultural Society has gone through turmoil.  For a time memberships dropped to 3.  One of those unfailing members was Ken Wiens.  During the years when it seemed like the agricultural society would simply die, Ken maintained the grounds, fixed fences, acted as mediator between opposing groups.  Then, when a renewal of the grounds became possible, Ken was there to support and add his handyman skills.
Ken is a kind person who is always willing to help someone in need and has the ability to work amongst and between diverse cultures.  He has kept the agricultural society alive while being an active member of the Valley Team Roping Association.  For these and many other contributions, we nominate Ken Wiens to receive Honourary Life Membership in the Manitoba Association of Agricultural Societies.
Sophie Sytnyk
Sophie Sytnyk was born in Vista, MB in 1923.  She married Joseph Sytnyk and together they raised 5 children on the family farm in the Shoal Lake area.  Sophie was a stay-at-home Mom and to this day is satisfied that she made the right decision in this regard.  Their boys were part of the 4-H Beef Club and the girls participated in the Shoal Lake 4-H Home Economics program.  Her son Perry, continues to operate the family farm.  He is assisted by his three children and brother, Brian, who helps when he can.  Sophie continues to be an active part of the farming life by preparing meals and offering support when needed.
Sophie is proud to say that all her children attended university and three grandchildren are enrolled in Brandon University—one grand-daughter is in the Agriculture program.
In the community, Sophie was a member of the Legion Auxillary for 25 years.   In 1984, Sophie designed a Centennial Quilt.  She displayed it at the local fair and then it was raffled off.  The winners are Shoal Lake residents and proudly display this wonderful heirloom.
Sophie has been an exhibitor at the Shoal Lake and Hamiota fairs from 1976 to the present.  She is best known for her plants and flowers and her prize-winning farm yard.  Sophie has served as a Director on the Shoal Lake Agricultural Society's board—a total of 39 years.  At 92 years young, she still attends ag society meetings.   Sophie is an inspiration to her community.  But she is retiring this year!  Fortunately, new directors have been training to take over her many duties.
Because of her involvement with the Shoal Lake Agricultural Society as well as numerous other community achievements, Sophie is a deserving recipient of Honourary Life Membership in the Manitoba Association of Agricultural Societies.
Doris Fletcher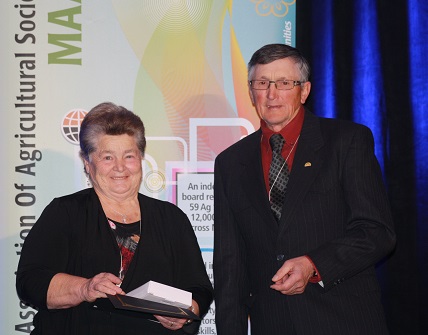 Doris was born in Dauphin.  She married Don Fletcher of McCreary and together they raised a family of three children.  Doris worked as a telephone operator from 1958-1967.  She worked at the Dauphin Livestock Auction as clerk beginning in 1969.   In 1974, Doris added working as auctioneer to her duties.  She remained at the livestock auction until it closed, more than 25 years after she started working there.
Doris has been involved in a variety of community organizations for many years.  Her activities have included 4-H where she received a certificate recognizing 25 years of service.  But like many other 4-H leaders she has served many more years.
Doris represented District 6 on the MAAS Board and was its President for 2 years.  She stayed on the Executive for an extra term so as help with a smooth transition on the Board.  Doris helped start the Manitoba Maple Syrup Festival in McCreary and played a key role in bringing the RCMP Musical Ride to McCreary in 2012.  Doris has been treasurer of the McCreary Agricultural Society since 2001.
Doris's great love—after husband and family—has been horses.  She has owned, raised, trained and showed horses for many years.  Since 1969 she has announced the horse section at the Dauphin Fair.  She has been part of the PFRA Community Pasture ride and their book keeper for the past 27 years.
Doris is a farmer and proud of it.  She strongly believes that we should be keepers and good stewards of the land that has been entrusted to us. She loves life and maintains a positive attitude.
Doris has spent many hours working to make her community a better place, and the MAAS Board, in recognizing her service, is pleased to nominate her for Honourary Life Membership in the Manitoba Association of Agricultural Societies.